Inflatable Jumper Rentals For Fontana Events
Free Delivery & Setup Available
Book Online Now
Inflatable Jumper Rentals For Fontana Events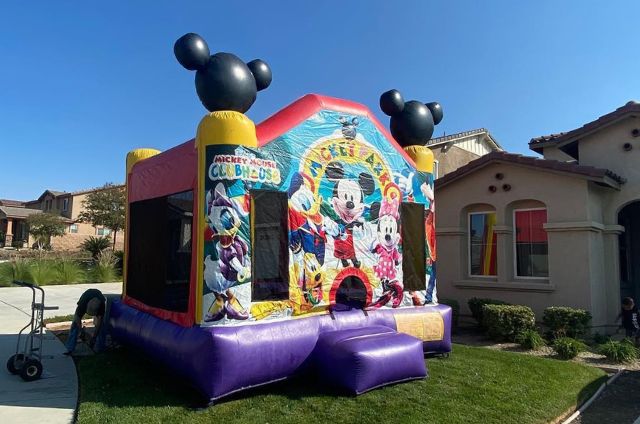 Featured Inflatable Jumper Rental
Trademark Mickey and Friends Jumper
Experience the sheer delight and anticipation in your child's eyes when they catch sight of our Trademark 13x13 Mickey and Friends Jumper Rental set up and ready for a full day of party fun. This isn't your ordinary inflatable jumper rental; it's a gateway to a world brimming with excitement and amusement, featuring some of the most cherished and iconic characters.

Our inflatable jumper brings the enchantment of Disney right to the heart of Fontana, CA. Bursting with vibrant colors, it showcases the beloved personalities of Mickey, Minnie, Pluto, Donald, Daisy, and Goofy. This bounce house rental is a surefire hit among young ones who adore the Mickey Mouse Club House. With a spacious 13x13 area, children have ample room to bounce, frolic, and immerse themselves in endless fun. Its setup area requirement is a mere 15x15ft., making it an ideal fit for most backyards. Plus, with the convenience of requiring only one outlet, setting it up is a breeze.

However, the Mickey and Friends Jumper offers more than just entertainment; it creates lifelong memories that will be treasured forever. Imagine the echoes of laughter and unbridled happiness as kids bounce alongside their beloved Disney characters, their smiles mirroring the immense size of the jumper itself. These are the priceless moments that elevate any party into a truly unforgettable experience.
Book Online Now
Bounce Into A World Of Fun With Bounce House Rentals In Fontana
Are you tired of trying to find unique ways to entertain your party guests? It's time to imagine a sunny day in Fontana, where the sound of children's laughter fills the air, and in the midst of it all, stands a vibrant and captivating bouncy castle. This is the enchanting world that a bounce house rental from 909 Jumpers and Party Rentals can bring right to your doorstep.

Our inflatable jumpers are more than mere inflatables; they are the gateways to a realm of boundless joy and excitement. Picture the exhilaration that washes over your child as they lay their eyes upon the towering jumper in their own backyard. The moment they step inside, their world transforms into an adventure of endless bouncy fun.

If you find yourself wondering, "Why choose 909 Jumpers and Party Rentals for my bounce house rental?" the answer shines as brightly as the Fontana sun. We offer an expansive selection, each one meticulously designed to deliver a unique and thrilling experience. From classic bounce house rentals to themed jumper rentals, we have something extraordinary to offer for every child's birthday celebration or backyard gathering. What's more, our bounce house rentals are tailored for your convenience. Simply choose your desired jumper, book it online, and leave the rest to us. We handle delivery, setup, and takedown, allowing you to relish the day and partake in the merriment.

So, if you've been searching for "bounce house rentals near me," your quest stops here. We take immense pride in serving our Fontana community, providing bounce house rentals that are guaranteed to be the highlight of any event. However, don't leave your party entertainment to the last minute. Keep in mind that our rentals are in high demand, particularly during the warmer times of the year. Don't delay—reserve today and let us help you create party magic!

Our bounce house rentals encompass far more than just thrilling attractions; they serve as passports to cherished childhood memories. They embody the excitement of soaring through the air, the contagious laughter that reverberates, and the sheer delight that radiates from the children's beaming faces. Every jumper we deliver is a testament to the priceless moments created. So, are you ready to secure an inflatable jumper for your upcoming event? Book today to reserve your upcoming party fun!
Unforgettable Childhood Memories Are Made
With Bounce House Rentals
There's a distinctive and unparalleled joy that happens when you rent a bounce house. It's a joy that resonates in the squeals of children's laughter as they bounce, the radiant smiles that illuminate their faces, and the enduring memories they forge. The sheer delight visible on their faces as they leap and bound, their laughter streams through the air, speaks volumes. This is not merely play; it's an extraordinary adventure, an expedition teeming with amusement and exhilaration.

With our remarkable bounce house rentals, you can infuse this unparalleled joy into your upcoming event. Whether it's a vibrant birthday celebration, a heartwarming family gathering, or simply a delightful day spent under the warm Fontana sun, our bounce houses serve as the epitome of excitement and boundless fun.

So, are you prepared to inject the pure joy of a bounce house into your forthcoming occasion? Are you ready to witness those radiant smiles, savor the echoes of laughter, and help to forge everlasting memories? If so, the time has come to reserve an inflatable jumper. Because ultimately, it's not solely about the bounce; it's about the unadulterated bliss, the revelry, and the cherished memories that endure.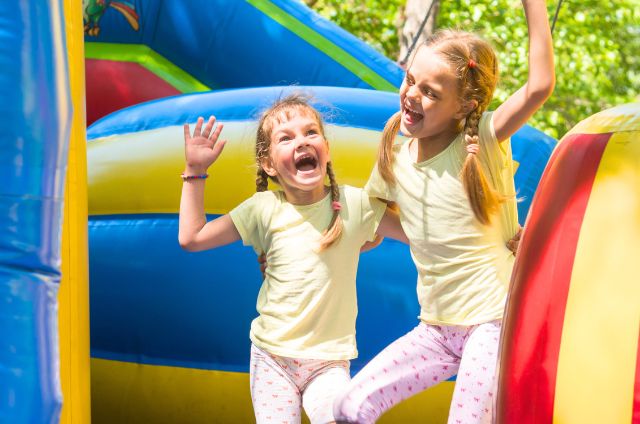 We are the #1 Choice for Jumper Rentals in and Around Fontana
If you're looking for the top provider of jumper rentals in Fontana, your search has ended right here! Welcome to 909 Jumpers, your all-inclusive destination for the most exhilarating assortment of Fontana jumper rentals. Be it a joyous birthday extravaganza, a delightful backyard picnic, a momentous anniversary celebration, a spirited school fun day, a spirited church gathering, a memorable corporate event, or any other festive occasion, we have you fully covered!

We simplify the rental process by presenting a remarkable array of inflatable jumpers that infuse an extra dose of excitement into any gathering. Our entertainment solutions are meticulously crafted to keep the little ones captivated and amused for hours on end. In addition to our standard jumpers, we proudly offer water jumpers and combo jumpers, also known as combo bounce houses, to amplify the fun factor.

When the time comes to commemorate your child's birthday, elevate the experience to extraordinary heights with 909 Jumpers. Our inflatable jumper rentals are guaranteed to steal the spotlight at the party. Picture the sheer thrill radiating from the faces of your young guests as they lay eyes on the jumper poised high in the backyard—anticipation is in the air!

Join the many families in the Fontana area, and book with the confidence of a satisfied customer. We look forward to helping you create a fantastic event!
Do You Deliver Inflatable Jumper Rentals Near Me In Fontana?
The answer is Yes! 909 Jumpers and Party Rentals is the #1 supplier in CA of Inflatable Party Rentals such as, Water Slides, Combo Bounce Houses, Inflatable Jumper Rentals, Water Jumpers, Tents, Tables and Chairs, Obstacle Courses, Jumpers, Interactive Games, and much more! Rent your next Inflatable rental with us, 909 Jumpers and Party Rentals!
Our Service Area
Proud to Serve The Following Areas:
Azusa
Chino Hills
Covina
Eastvale
Fontana
Jurupa Valley
Ontario
Rancho Cucamonga
Rialto
Riverside
Upland
All areas in between
If your party or event is beyond that radius, just let us know! We may be able to make special accommodations to suit your event.
NOTE: Fees may vary depending on how far you are outside our service area.
https://www.google.com/maps/embed?pb=!1m18!1m12!1m3!1d105710.97733395633!2d-117.53280968627168!3d34.108765623499956!2m3!1f0!2f0!3f0!3m2!1i1024!2i768!4f13.1!3m3!1m2!1s0x80c34b8f224409c3%3A0x78cbf3c11829549b!2sFontana%2C%20CA!5e0!3m2!1sen!2sus!4v1659467796353!5m2!1sen!2sus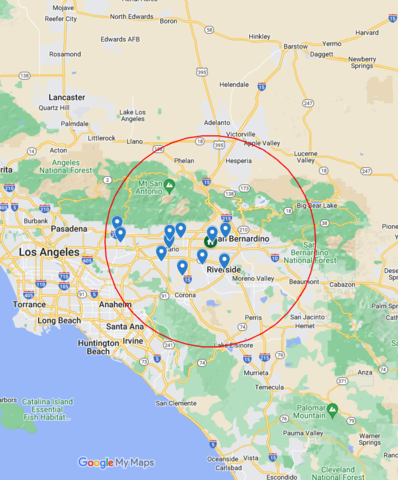 People That Shop For Inflatable Jumper Rentals Also Reserve: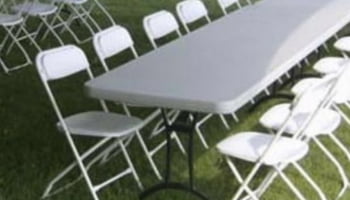 Tables and Chairs
We all need a spot to place our plates and sit down after bouncing around all day. You can really never have enough chairs once guests start coming in to play at your party. Lucky for you, 909 Jumpers and Party Rentals offers a wide selection of table and chair rentals.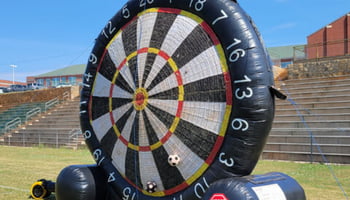 Interactive Games
Step right up to the best yard and carnival game rentals for your next event! Bring the crowd together with party games that can be set up at many locations. Many of our party games can be set up both indoor and outdoor events.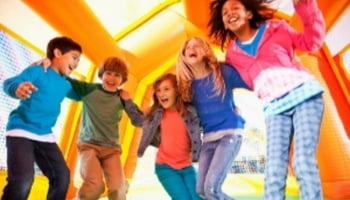 Water Jumpers
Is there a better way to spend a summer day than by getting the thrill of going down a water slide and splashing your friends down in the deep pool of water? Our slides are a great way to create fun and memorable moments in the sun for your guests.
Frequently Asked Questions About Jumper Rentals
Does the price include set up and delivery?
Yes, set up is included. Delivery fees may apply to areas farther out from our office. See Delivery area page.
We've rented some really dirty jumps from other companies in the past. Are they always that dirty?
No. The jump should be clean when you get it. 909 Jumpers cleans every Jumper after every rental. The driver also carries all the necessary supplies to clean the jumper just in case. The pick up driver will also turn on the unit at the pick up location to inspect the unit. To avoid a cleaning fee make sure the unit is free of any trash, candy or decorations.
What payments do you take?
Cash or Credit Cards. If paying by cash, please have exact change as our drivers do not carry cash. If paying by debit/credit card there is a 3% convenience fee added to the total.
What if we need to cancel?
In the event you need to cancel your items for any reason please reply to the confirmation email that you received when you placed the order. Our staff will cancel the order and send a cancellation confirmation via email. Deposits are NON-REFUNDABLE but can be credited toward another event within 180 days. If not used by that time the deposit will be forfeited.
Do you require a deposit?
Yes all orders under $200 require a $25 Credit Card deposit. Orders over $200 require a 25% Credit Card deposit. Deposit is NON-REFUNDABLE if you cancel your order. If you cancel you will be given a rain check that is good for 180 days. If rain check is not used within 180 days it will be forfeited.