Obstacle Course Rentals In Rancho Cucamonga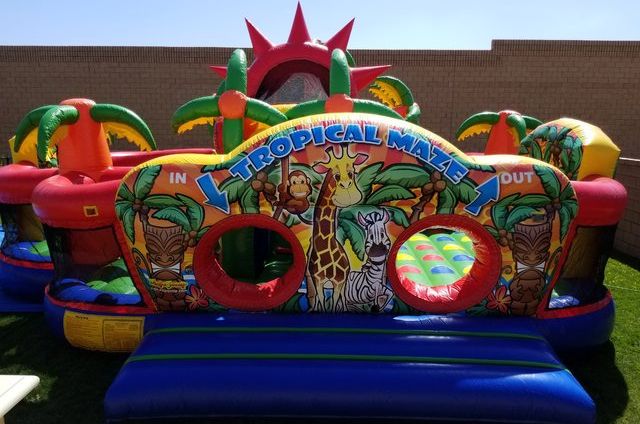 Feature Obstacle Course Rental
Jungle Animal Tropical Maze Obstacle Course
Welcome to the Jungle Animal Tropical Maze, the ultimate inflatable obstacle course that brings a slice of the wild right to your backyard! It's an adventure waiting to happen!

Your kiddos will navigate through a labyrinth of jungle animals, from towering giraffes to playful monkeys. It's like a safari, but safer and way more convenient. The Jungle Animal Tropical Maze Obstacle Course Rental is perfect for birthday parties, school events, or any Rancho Cucamonga gathering where you want to add a dash of excitement.

What sets this obstacle course rental apart? First off, the vibrant colors and intricate designs are sure to capture the imagination of every child (and let's be honest, adults too). The quality is top-notch, made from durable materials that can withstand even the most energetic of explorers.

Safety is our priority, and this obstacle course rental comes with all the necessary precautions. It's anchored securely to ensure stability, and the mesh windows allow for easy supervision. Plus, our team takes care of the setup and takedown, so you can focus on the fun. Did we mention FREE delivery and setup are available in select areas around Rancho Cucamonga? That's right, we've got you covered!


Book Online Now
Inflatable Obstacle Course Rentals Are the Life of
Any Event in Rancho Cucamonga
Don't you just love a sun-drenched Saturday where the sky's as clear as crystal and the air's got that sweet smell of barbecue and freshly mowed lawns. You're at the Rancho Cucamonga neighborhood's annual fair and they've kicked it up a notch with a fun inflatable obstacle course rental! As you stroll in, your eyes are instantly drawn to this colossal playground of inflatable fun. It's like someone took your kids' dreamt up and inflated it—literally! The colors are poppin', and the whole setup's got this magnetic pull that says, "Hey, come on over and have the time of your life!"

Now, the vibe around this obstacle course bounce house masterpiece is electric. The tunes are playing that make you wanna move, and the kiddos are lining up like it's Black Friday! You hear that? That's the sound of pure, unfiltered joy as they dive, climb, and slide their way through this labyrinth of awesomeness. Get up close and personal, and you'll feel the buzz—literally. The ground's got this subtle shake from all the bouncing and climbing, and the obstacle course rentals? Cool and smooth, like your favorite pair of shades.

This isn't your run-of-the-mill obstacle course rental, folks. We're talking tunnels, walls, and slides that'll make even the grown-ups wanna jump in. And why not? Fun is not just for the little ones! And as the sun starts to dip, you realize it's not just about the obstacle course rentals. Nah, it's bigger than that. It's about your Rancho Cucamonga community, about coming together and having a good ol' time.

So, next time you're in charge of delivering the fun—be it a school event, a community fair, or heck, even a corporate gig in Rancho Cucamonga—remember, an inflatable obstacle course rental isn't just a good time; it's the glue that brings folks together. Trust me, it's an experience that'll have people talking long after the party ends.
Conquer the Ultimate Adventure: The 70 ft. Obstacle Course Rental Challenge
Hey there, party people! Are you ready to take your event to the next level? Well, buckle up, because the 70ft Obstacle Course Rental Challenge with a 22ft Rock Climb Double Slide is here to blow your mind! This is the ultimate playground for thrill-seekers and fun-lovers alike.

First off, let's talk size. This bad boy stretches a whopping 70 feet, making it a jaw-dropping centerpiece for any event. Trust me, as soon as your guests lay eyes on this inflatable obstacle course marvel, you'll hear a collective "Whoa!" that'll echo through the neighborhood.

Now, onto the fun stuff. Picture yourself racing through a maze of challenges, dodging pillars, and squeezing through tight spaces. Feel the adrenaline pumping yet? But hold on, that's just the warm-up!

Up next is the 22 ft. Rock Climb. Yeah, you read that right—22 feet! Get ready to channel your inner mountaineer as you scale this towering wall. The climb itself is exhilarating, but the real treat? That'd be the view from the top. You'll feel like the king or queen of the world, looking out over your kingdom of fun.

And just when you think it can't get any better, you'll find yourself at the pinnacle of excitement: the Double Slide. This is where you and a buddy can race down side by side, feeling the wind whip through your hair as you make your grand descent. Talk about a photo finish!

Safety? You betcha! This obstacle course rental is built with top-quality materials and anchored securely to ensure everyone has a blast without a hitch. And let's not forget, FREE delivery and setup are part of the deal.

So, if you're looking to make your next event the talk of the town, look no further. The 70 ft. Obstacle Challenge with 22 ft. Rock Climb Double Slide is an experience that'll have folks raving long after the party's over.


We are the #1 Choice for Obstacle Course Rentals in Rancho Cucamonga
When it comes to delivering an unforgettable experience, safety and customer service are our top priorities here at 909 Jumpers and Party Rentals. Sure, our obstacle course rentals are a blast, but we want you to know that they're also built to the highest safety standards.

First off, let's talk materials. Our obstacle course bounce houses are crafted from the toughest materials available. This isn't your average backyard bouncy castle material; it's designed to withstand the wear and tear of constant use while providing a soft, cushioned surface for jumpers of all ages. From your youngest nephew to your adventurous grandma, everyone can join in on the fun without worry.

But we don't stop at just quality materials. Each of our obstacle course rentals undergoes rigorous safety inspections before it ever reaches your Rancho Cucamonga event. We're talking anchor points, stitching, and even the air blowers—everything is checked and double-checked to ensure maximum safety.

Now, let's chat about setup. Our team of trained professionals takes care of all the heavy lifting. We'll arrive well before your event starts to set up the obstacle course rentals, ensuring it's anchored securely and positioned in the safest location. And guess what? FREE delivery and setup are part of the package, so you can focus on enjoying the event rather than stressing over logistics.

Customer service? We've got that covered too. Our friendly and knowledgeable staff is always just a phone call or email away. Whether you have questions about the best inflatable obstacle course rental for your event, need tips on maximizing fun, or even want to know about our other offerings, we're here to help.

Variety is the spice of life, and that's why 909 Jumpers and Party Rentals offers a range of obstacle course rentals to suit every need. Located in Rialto, we've got options that range from our compact 40-foot courses for smaller events to our jaw-dropping 90-foot two-lane obstacle course races for those looking to go big. No matter the size of your gathering, we've got an obstacle course that'll fit the bill.

So, when you're planning your next Rancho Cucamonga event and thinking about how to build teamwork, camaraderie, or even friendships, look no further than 909 Jumpers and Party Rentals's obstacle course rentals. With our commitment to safety, top-notch customer service, and a variety of options, we're not just providing a rental; we're delivering an experience that'll be the highlight of any event.
Do You Deliver Obstacle Course Rentals
Near Me In Rancho Cucamonga?
The answer is
Yes!
909 Jumpers and Party Rentals is the #1 supplier in CA of Inflatable Party Rentals such as,
Water Slides
,
Combo Bounce Houses
,
Water Jumpers
,
Tents
,
Tables and Chairs
,
Obstacle Courses
,
Jumpers
,
Interactive Games
,
Party Add Ons
, even
Holiday Jumper Rentals
, and much more! Browse our inventory and rent your next inflatable party rental with us, 909 Jumpers and Party Rentals!
Our Service Area
Proud to Serve The Following Areas:
If your party or event is beyond that radius, just let us know! We may be able to make special accommodations to suit your event.
NOTE: Fees may vary depending on how far you are outside our service area.
https://www.google.com/maps/embed?pb=!1m18!1m12!1m3!1d52846.00079328132!2d-117.59285749427032!3d34.123948429987614!2m3!1f0!2f0!3f0!3m2!1i1024!2i768!4f13.1!3m3!1m2!1s0x80c35bf938112791%3A0xad6a7aad82f2f34b!2sRancho%20Cucamonga%2C%20CA!5e0!3m2!1sen!2sus!4v1659467768416!5m2!1sen!2sus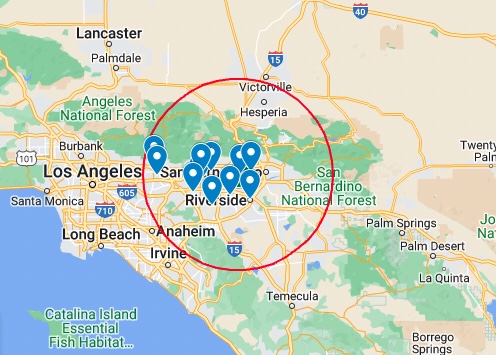 People That Rent Obstacle Course Also Shop For: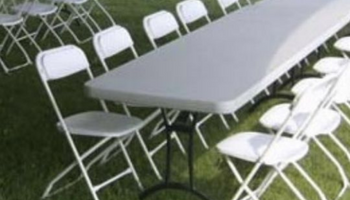 Tables and Chairs
We all need a spot to place our plates and sit down after bouncing around all day. You can really never have enough chairs once guests start coming in to play at your party. Lucky for you, 909 Jumpers and Party Rentals offers a wide selection of table and chair rentals.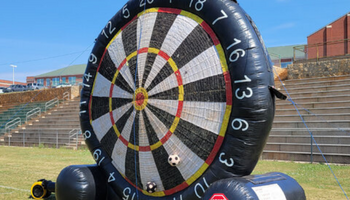 Interactive Games
Step right up to the best Yard and Carnival Game Rentals for your next event! Bring the crowd together with party games that can be set up at many locations. Many of our party games can be set up indoors or outdoors.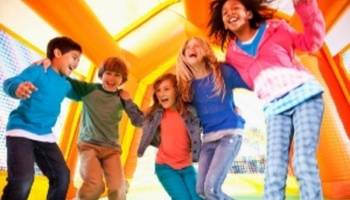 Bounce Houses
You can't go wrong with any of our inflatable bounce house rentals. Whether you're looking to host a backyard party and need a simple colored bounce house or your party needs a large bounce house, we've got you covered.
Frequently Asked Questions About Renting Obstacle Courses
Does the price include set up and delivery?
Yes, set up is included. Delivery fees may apply to areas farther out from our office. See Delivery area page.
We've rented some really dirty jumps from other companies in the past. Are they always that dirty?
No. The jump should be clean when you get it. 909 Jumpers cleans every Jumper after every rental. The driver also carries all the necessary supplies to clean the jumper just in case. The pick up driver will also turn on the unit at the pick up location to inspect the unit. To avoid a cleaning fee make sure the unit is free of any trash, candy or decorations.
What payments do you take?
Cash or Credit Cards. If paying by cash, please have exact change as our drivers do not carry cash. If paying by debit/credit card there is a 3% convenience fee added to the total.
What if we need to cancel?
In the event you need to cancel your items for any reason please reply to the confirmation email that you received when you placed the order. Our staff will cancel the order and send a cancellation confirmation via email. Deposits are NON-REFUNDABLE but can be credited toward another event within 180 days. If not used by that time the deposit will be forfeited.
Do you require a deposit?
Yes all orders under $200 require a $25 Credit Card deposit. Orders over $200 require a 25% Credit Card deposit. Deposit is NON-REFUNDABLE if you cancel your order. If you cancel you will be given a rain check that is good for 180 days. If rain check is not used within 180 days it will be forfeited.