Commercial Inflatable Repairs Done Right!
Need Expert Repairs For Your Inflatables?

909 Jumpers is your go-to inflatable repair expert. For over 15 years, our certified repair technicians have cared for and repaired inflatables, giving them new life and extraordinary longevity. We don't cut corners when it comes to safety. Every unit goes through a meticulous inspection to detect damage or vulnerable areas on the unit that could lead to future failures.


It only takes one bad story in the press…

We know it only takes one bad story in the press to hurt all of us in the industry. A do-it-yourself patch job that gives way when you least expect it or sealants applied incorrectly is all it takes to set the stage for disaster. That's why we're deeply invested in providing our repair services to anyone who needs it. We accept inflatable repair jobs from coast to coast. Whether you're a local competitor or a rental company on the other side of the country, we want to ensure your inflatables are safe.


What we do

We repair water slides, bounce houses, obstacle courses, and everything in between. Our certified repair team has over 15 years of experience repairing and servicing inflatables. When it comes to commercial inflatables, there is not much we haven't worked on through the years.

We inspect the damaged area for repair, but we also inspect the rest of the inflatable for areas that may have been missed. Wether caused by the same thing as the damaged area reported or an area that has weakened due to normal (and abnormal) use, our team can help find and deal with damage that hasn't happened yet. We often find seams that are getting ready to give out and are able to repair those at the same time. This will save you time and money from another trip to us (or shipping expenses) as well as time out of your rental inventory instead of being available to rent to your customers and generate income needed for your business. We discuss all of our findings as well as repair costs before we start work so there aren't any surprises when you come to pick them up.


Common repairs:
window replacements
blown baffles
seam failures
catastrophic damage from units falling off trailers moving at high speeds.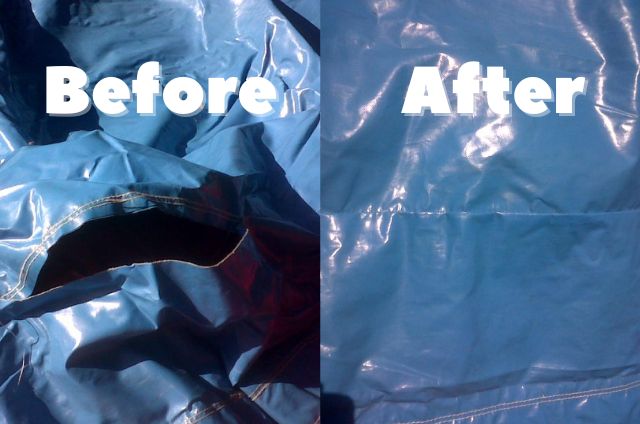 Slide Blanket Repairs
Slide blankets are designed to take the wear from children playing on inflatables. They generally use velcro to hold them in place and can be removed and either repaired or replaced if the damage is too extensive.

This slippery material often sees damage to the seams as well as the bottom of the slide where the ride flattens out to the bottom.

We can repair most slide blankets, but we can also manufacture new ones. We have the same materials the original manufacturers use so you end up with something that looks brand new.
Window Replacement
A small hole in a window doesn't repair itself, but even worse, children love to play with the small hole and make it bigger. It becomes a game for them and a safety nightmare for inflatable owners and parents alike.

Get those windows back to safe condition with a full window replacement. We will replace the window material and have your inflatable back to a safe condition to allow children to play and parents to have peace of mind... and rental income coming into your business.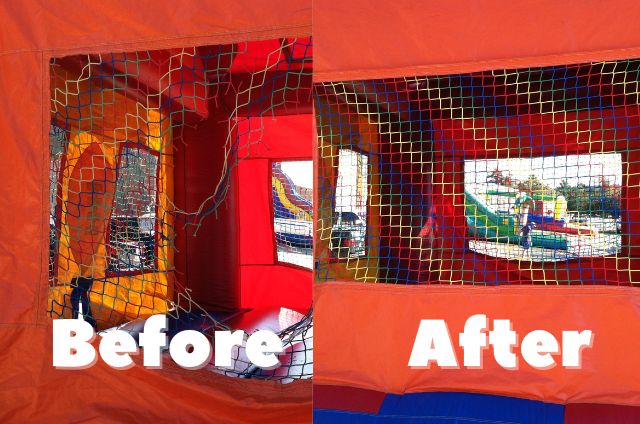 Say Hello to Your Water Slide Repair Specialists
Got a worn-out slide blanket? No problem. We can manufacture a new slide blanket so you can safely return your unit back to your inventory. Seeing dry rot? Is sand cutting into the seams of your unit, creating holes that let out the air and let in water? We've seen it all and know the correct way to resolve these problems.
We never want to lose sleep at night worrying about a repair we did that could result in a child getting hurt. Our team takes safety that seriously. We will repair your commercial inflatable just as if it were one of our own. We have had our own children at parties with inflatables we have repaired for companies. We know that can happen again. Our repairs are done with that understanding in mind that level of care is taken.
When you are in need of repairs for your inflatables, 909 Jumpers has the team ready to get them back in your rental inventory where they belong. Reach out to us today at
909-684-5867
to discuss how we can help you continue to be able to deliver smiles to your customers.