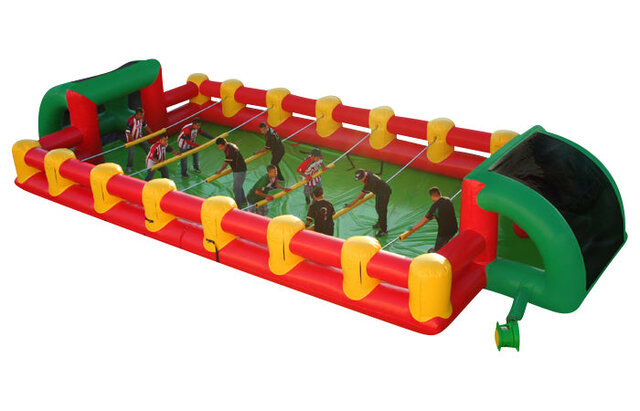 Human Foosball (soccer game)
Actual Size: 18x38 ft.
Setup Area: 20x40 ft
Outlets: 1




Introducing the ultimate team-building and fun-filled activity for churches, corporate events, and large block parties - the Human Foosball inflatable! Get ready to experience the thrill of a classic foosball game, but with a life-sized twist that will have everyone on their feet!
This inflatable masterpiece brings people together like never before, fostering camaraderie and friendly competition among players of all ages. Imagine being part of a human-sized foosball table, where you and your teammates work together to score goals and outmaneuver the opposing team. It's an exhilarating experience that guarantees laughter, excitement, and unforgettable memories.
The Human Foosball inflatable is perfect for churches looking to organize engaging team-building activities that promote unity and cooperation. It provides an inclusive environment where individuals can bond, strengthen relationships, and create lasting connections. Whether it's a youth group, men's or women's ministry, or a church-wide event, this inflatable will undoubtedly be the highlight of the day.
For corporate events, the Human Foosball inflatable offers a unique and interactive experience that encourages teamwork, communication, and problem-solving skills. It's an excellent way to break the ice, build employee morale, and foster a positive work environment. Your colleagues will appreciate the opportunity to step away from their desks and engage in friendly competition, all while building stronger professional relationships.
Large block parties are all about creating a vibrant and lively atmosphere that brings the community together. The Human Foosball inflatable is the perfect addition to any block party, providing hours of entertainment for children, teenagers, and adults alike. Watch as neighbors, friends, and family members team up, strategize, and cheer each other on, creating a sense of community and togetherness that will be remembered long after the event.
Safety is our top priority, so rest assured that our Human Foosball inflatable is designed with high-quality materials and meets all safety standards. Our experienced staff will ensure proper setup and supervision, allowing you to enjoy the event worry-free.
Don't miss out on the opportunity to elevate your next church gathering, corporate event, or large block party to new heights of excitement and connection. Book the Human Foosball inflatable today and get ready for a thrilling experience that will leave everyone wanting more!