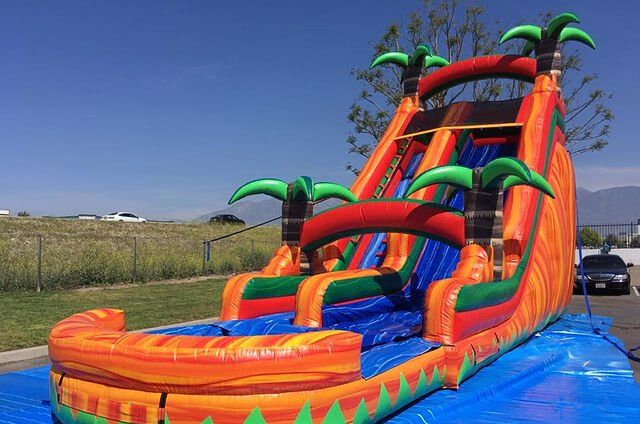 Featured Water Slide Rental
22ft Fire Water Slide
Imagine the thrill of climbing up a 22-foot tower, the anticipation building with each step. You're at the top, looking down at the world below, your heart pounding with excitement. You take a deep breath, and then you're off! You're sliding down the 22ft Fire Water Slide, a rush of adrenaline and water carrying you at exhilarating speeds.

The Fire Water Slide isn't just any ordinary water slide. It's a marvel of design, a unique blend of vibrant orange and red marble that gives it a fiery, hot look. It's not just a slide; it's a statement, a centerpiece that's sure to wow all your guests and make your event unforgettable.

As you slide down, you can almost feel the heat of the flames, the water splashing around you like a cool, refreshing oasis in a desert. It's a thrilling, heart-pounding experience, a wild ride that ends with a satisfying splash. And the best part? You can do it all over again.

But remember, the Fire Water Slide is a hot commodity. It's in high demand, and slots fill up fast. So, don't wait. Book early and secure your chance to experience this thrilling water slide.

So, are you ready to turn up the heat at your next event? Are you ready to make a splash that your guests will remember for years to come? Then the 22ft Fire Water Slide is just what you need.
Book Online Now
Transform Your Backyard Into A Water Park With Water Slide Rentals
Picture this: It's a hot summer day, the sun is shining, and laughter fills the air. Your backyard has been transformed into a water park, and at the center of it all is a towering, vibrant inflatable water slide rental from 909 Jumpers and Party Rentals. This isn't just any backyard party; this is an event that will be remembered for years to come. And it all starts here!

Your party guests will be excited to feel the rush of adrenaline as they climb to the top of the slide, their anticipation building with each step. The world looks different from up here, more exciting. And then, with a deep breath, they are off! Kids sliding down at exhilarating speeds, the cool water splashing, laughter and cheers echoing. This is what our water slide rentals are all about!

Our selection is vast and varied, each slide offering a unique adventure. From the fiery rush of the 22ft Fire Water Slide to the whimsical journey of each of our brightly colored inflatable water slide rentals, there's a world of fun waiting for you to share with all. And the best part? We've made the process of renting as easy as a summer breeze. Choose to book it online, and we'll handle the rest. We'll deliver, set up, and take it down, leaving you free to enjoy the fun.

So, if you've been searching for "water slide rentals near me," your search ends here. We're proud to bring the thrill and excitement of a water park right to your backyard. Don't just imagine the fun; experience it for yourself. Browse through our inventory, each page filled with vivid photos and detailed descriptions to help you choose the perfect slide for your event.

But remember, our water slide rentals are as popular as a cool pool on a hot day. So don't wait. Dive into the excitement and book your rental today. And why stop at water slides? We offer a wide range of party rentals, from bounce houses to tables and chairs. No matter the size or theme of your event, we have everything you need to make it a splash.

In the end, our water slide rentals are more than just a fun attraction; they're a ticket to an unforgettable event. They're the thrill of the climb, the rush of the slide, and the splash of the landing. So, are you ready to make a splash at your next event? Book today and let the fun begin.
Pure Joy: The Magic of Water Slide Rental Fun!
There's something magical about a water slide. It's more than just a slide; it's a portal to a world of fun, laughter, and unforgettable memories. And in this world, the rules are simple: climb, slide, splash, and repeat!

Look at the picture. See the joy on the kids' faces as they slide down the water slide, their laughter ringing out as they splash into the pool below. This isn't just play; it's an adventure, a journey filled with twists, turns, and a big splash at the end.

But it's more than just fun. It's the thrill of the climb, the anticipation as they prepare to slide, the rush of the descent, and the satisfaction of the splash. It's the challenge, the adventure, and the reward, all rolled into one.

And the best part? This joy, this excitement, this unforgettable experience can be yours to share. With our water slide rentals, you can bring this world of fun right to your backyard. Whether it's a birthday party, a family reunion, or just a fun day in the sun, our water slides are the perfect way to add a splash of excitement to any event.

So, are you ready to bring the joy of a water slide to your next event? Are you ready to see the smiles, hear the laughter, and create memories that will last a lifetime? Then it's time to book your water slide rental. Because in the end, it's not just about the slide; it's about the joy, the fun, and the memories. And those are things you can't put a price on.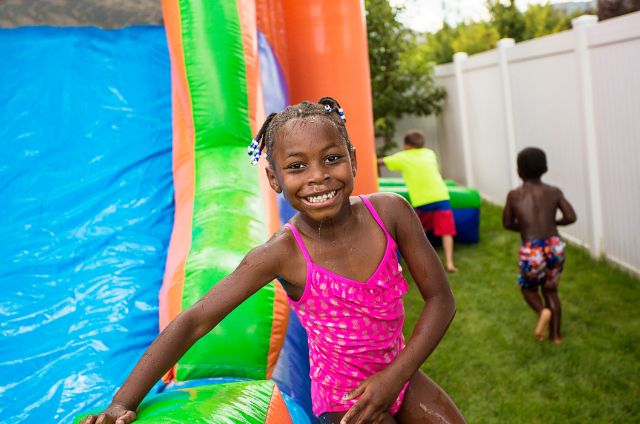 We are the #1 Choice for Water Slide Rentals in SoCal
At the heart of our business is a commitment to you, our valued customer. We understand that when you're planning an event, you're not just looking for a water slide rental. You're looking for a partner who can help you create an unforgettable experience. That's where 909 Jumpers and Party Rentals comes in.

From the moment you first contact us, you'll experience the difference. Our friendly, knowledgeable team is here to answer your questions, help you choose the perfect Inflatable water slide rental, and guide you through the booking process. We're not just here to provide a service; we're here to ensure your event is a success.

But our commitment to you doesn't stop there. We understand that cleanliness is a top priority, especially when it comes to water slide rentals. That's why we have a rigorous cleaning process in place for all our inflatables. After each rental, our 909 Jumpers and Party Rentals team thoroughly cleans and sanitizes each rental, ensuring it's ready and safe for the next event. We take pride in providing clean, well-maintained water slides that you can feel confident renting.

But what truly sets us apart is our dedication to making your event special. We understand that every event is unique, and we're here to help make yours stand out. Whether it's helping you choose the perfect water slide or offering tips on how to make your event a hit, we're here to support you every step of the way.

In the end, our commitment to you is simple: we're here to provide high-quality, clean, safe rentals, backed by exceptional customer service. We're here to help you create an event that's not just fun, but unforgettable.

So, are you ready to experience the difference? Reserve your favorite inflatable water slide rental today and let us help you make a splash at your next event.
Do You Deliver Water Slide Rentals Near Me?
The answer is Yes! 909 Jumpers and Party Rentals is the #1 supplier in CA of Inflatable Party Rentals such as, Water Slides, Combo Bounce Houses, Water Jumpers, Tents, Tables and Chairs, Obstacle Courses, Jumpers, Interactive Games, Party Add Ons, even Holiday Jumper Rentals, and much more! Browse our inventory and rent your next inflatable party rental with us, 909 Jumpers and Party Rentals!
Our Service Area
Proud to Serve The Following Areas:
Rancho Cucamonga
Rialto
Ontario
Upland
Chino Hills
Riverside
Covina
Jurupa Valley
Azusa
Eastvale
All areas in between
If your party or event is beyond that radius, just let us know! We may be able to make special accommodations to suit your event.
NOTE: Fees may vary depending on how far you are outside our service area.
https://www.google.com/maps/d/u/1/embed?mid=1JgBPh7TkhgACnuUIiuzD3tzZRvCCw-8&ehbc=2E312F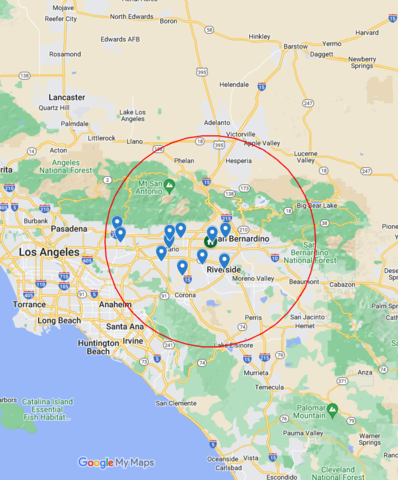 People That Shop For Water Slide Rentals Also Reserve: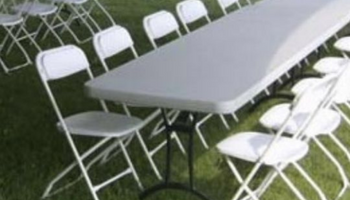 Tables and Chairs
We all need a spot to place our plates and sit down after bouncing around all day. You can really never have enough chairs once guests start arriving. Lucky for you, 909 Jumpers and Party Rentals offers a wide selection of table and chair rentals.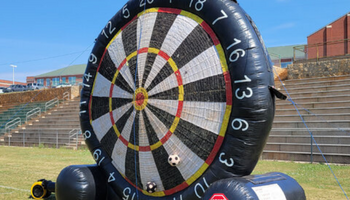 Interactive Games
Step right up to the best yard and carnival game rentals for your next event! Bring the crowd together with party games that can be set up at many locations. Many of our party games can be set up both indoor and outdoor events.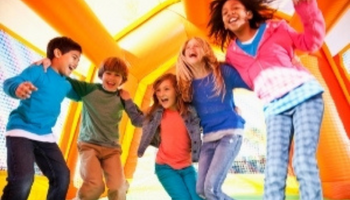 Bounce Houses
You can't go wrong with any of our inflatable bounce house rentals. Whether you're interested in hosting a backyard party and need a simple colored bounce house or your party needs a large bounce house, we've got you covered.
Frequently Asked Questions About Water Slide Rentals
Does the price include set up and delivery?
Yes, set up is included. Delivery fees may apply to areas farther out from our office. See Delivery area page.
We've rented some really dirty jumps from other companies in the past. Are they always that dirty?
No. The jump should be clean when you get it. 909 Jumpers cleans every Jumper after every rental. The driver also carries all the necessary supplies to clean the jumper just in case. The pick up driver will also turn on the unit at the pick up location to inspect the unit. To avoid a cleaning fee make sure the unit is free of any trash, candy or decorations.
What payments do you take?
Cash or Credit Cards. If paying by cash, please have exact change as our drivers do not carry cash. If paying by debit/credit card there is a 3% convenience fee added to the total.
What if we need to cancel?
In the event you need to cancel your items for any reason please reply to the confirmation email that you received when you placed the order. Our staff will cancel the order and send a cancellation confirmation via email. Deposits are NON-REFUNDABLE but can be credited toward another event within 180 days. If not used by that time the deposit will be forfeited.
Do you require a deposit?
Yes all orders under $200 require a $25 Credit Card deposit. Orders over $200 require a 25% Credit Card deposit. Deposit is NON-REFUNDABLE if you cancel your order. If you cancel you will be given a rain check that is good for 180 days. If rain check is not used within 180 days it will be forfeited.